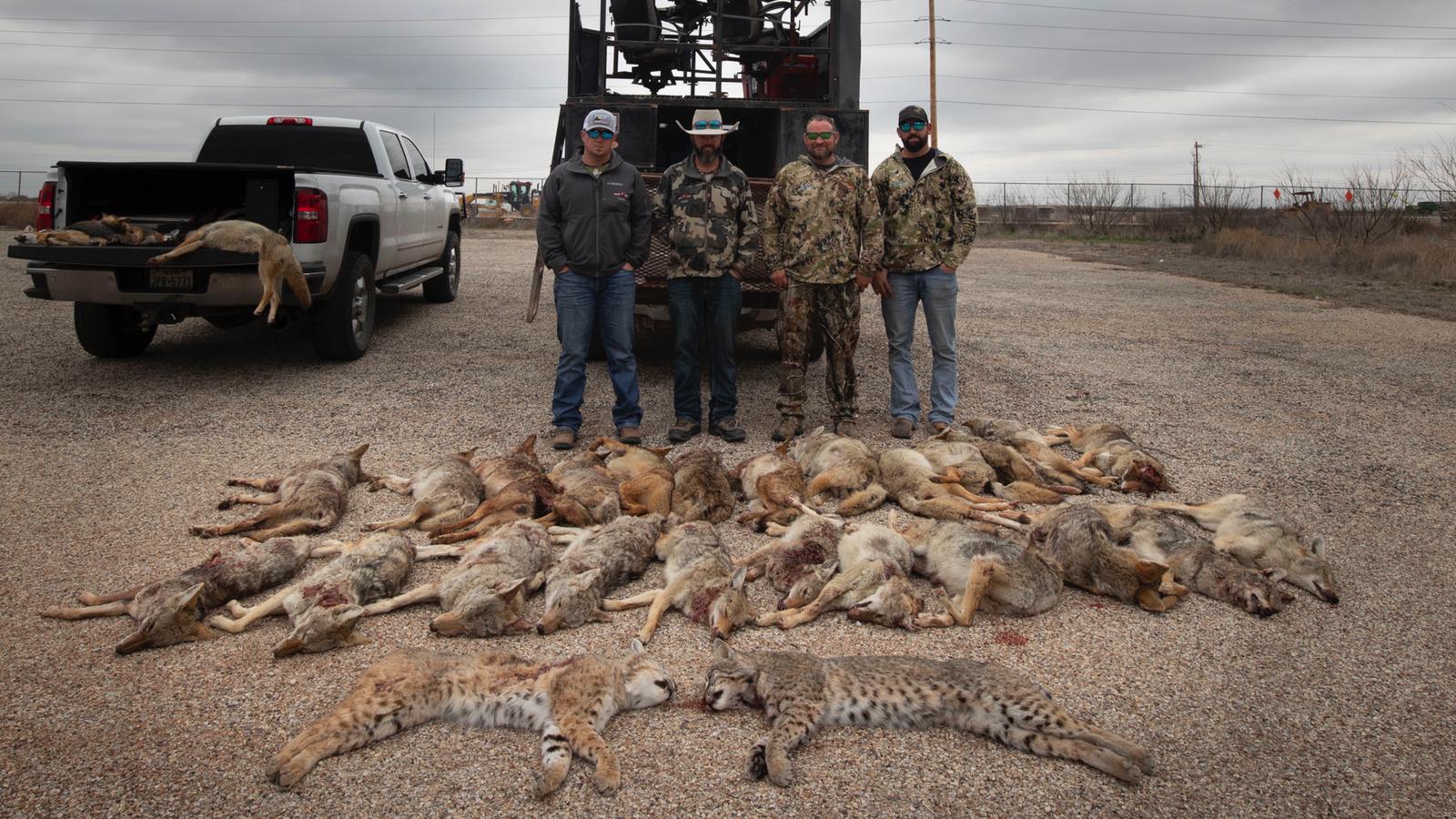 PHOTOGRAPH BY FILIPE DEANDRADE
By Rachael Bale, ANIMALS Executive Editor

Sport hunting is one of the most controversial topics we cover on the Animals desk. It's an emotional issue that inevitably leads to debates about ethics, sustainability, sportsmanship, and even sovereignty. Today, I'm going to turn the newsletter over to National Geographic Explorer Filipe DeAndrade, whose new film takes a deep dive into one of the most controversial types of hunting of all: wildlife killing contests.

Never heard of them? You're not alone. They cater to a niche group of hunters and are increasingly held in undisclosed locations because of the controversy they generate. Wildlife killing contests are exactly what they sound like: competitions to kill as many of a particular species within a certain time period as possible. Often, they target predators like coyotes, foxes, and bobcats (pictured above, at a West Texas contest in 2020). Contest targets also include crows, rabbits, and raccoons.

I interviewed DeAndrade about what he learned during his two years on the film.

Nat Geo: Why did you want to make a film about killing contests?

Filipe DeAndrade: I love wildlife absolutely more than anything else on the planet, and the thing I loathe the most is injustice. When you consider that these killing contests are happening in over 40 states and on public lands, people are being robbed of rich wildlife encounters and more importantly, biodiversity. I wanted to show people that there are proper ways to "manage" wildlife based on science and that these contests don't do that.

NG: What was it like tagging along with hunters during a contest?

FD: I honestly went into it with an open mind. I wanted to learn exactly why people compete in these contests, and to experience the emotional and physical process myself. The strongest feeling I left with was "what a waste." The animals, for the most part, get discarded in dumpsters after the contests. Not much can be done with the fur because of the bullet wounds, and most people don't eat coyote and bobcat meat.

DeAndrade went on to explain that predator killing contests are typically rationalized by saying the goal is to protect livestock, despite scientific evidence showing that they tend to do the opposite. And, he learned, many hunters themselves are opposed to these contests because the controversy they generate gives hunting a bad reputation. Nonetheless, contest organizers point out that they take pains to ensure participants know they must obey state laws.

Wildlife advocates opposed to killing contests, including DeAndrade, have started a petition to ban them nationally. You can watch his film and learn more about killing contests here. And if you'd like to learn more about trophy hunting and how it relates to conservation more generally, check out this subscriber-exclusive magazine story, "Should we kill animals to save them?"

Do you get this newsletter daily? If not, sign up here or forward to a friend.