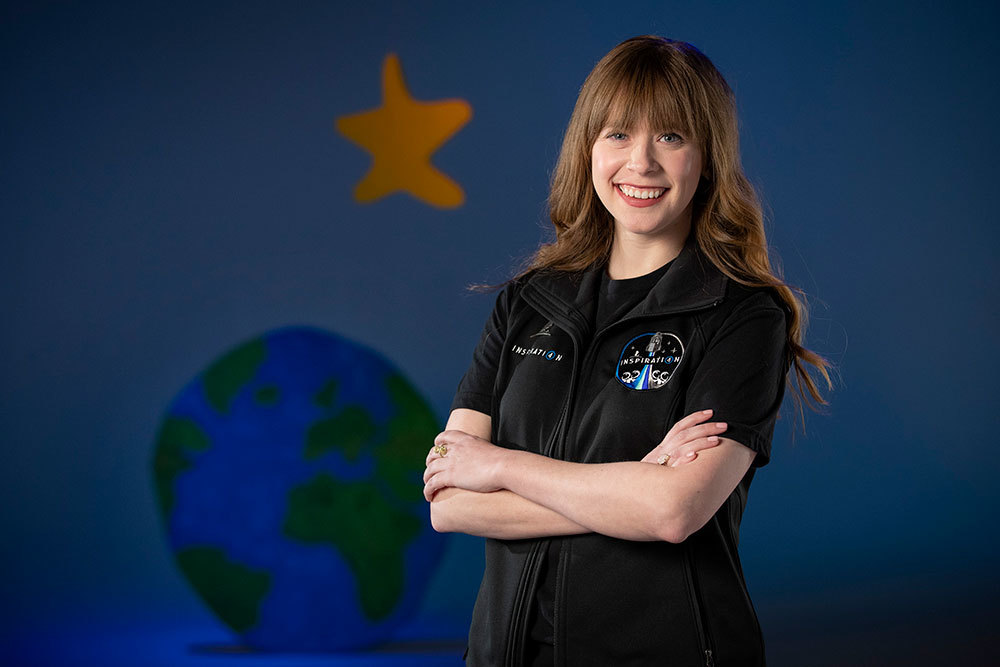 PHOTOGRAPH COURTESY MIKE BROWN, AMERICAN LEBANESE SYRIAN ASSOCIATED CHARITIES

By Victoria Jaggard, SCIENCE executive editor

If things go to plan, a SpaceX mission slated to fly later this year will include a historic crew member: the first person with a prosthetic to go to space. Hayley Arceneaux, a physician assistant at St. Jude Children's Research Hospital in Tennessee, has been chosen to be part of Inspiration4, which SpaceX is touting as "the world's first all-commercial astronaut mission to orbit."

Arceneaux, 29, (pictured above) was diagnosed with bone cancer almost 20 years ago and had to have some of her left leg bones replaced with metal rods. These artificial bones would have disqualified Arceneaux from space travel as a professional astronaut, Kenneth Chang reports for the New York Times. While the recipe for what NASA considers "the right stuff" has changed over time, as our Jay Bennett recently wrote, the space agency still maintains strict medical standards for its official space travelers. And while civilians have made it to orbit before—most of them millionaire space tourists who bought a seat on board Russia's Soyuz spacecraft—NASA has long restricted orbital flights launched from U.S. soil to the professionals.

Since its inception, SpaceX has been on a mission to make space travel more widely accessible, and at least with Inspiration4, the company seems to be delivering on that promise. The mission is funded by tech billionaire Jared Isaacman, who will also serve as its pilot. Isaacman decided to give one seat to Arceneaux, one to a random lottery winner, and the final one to the winner of an innovation contest.

In selecting Arceneaux, Isaacman is breaking down barriers for the disabled, a community of people who have been historically excluded from space travel—despite the fact that they helped make it possible. In the early 1960s, a group of 11 deaf men from Gallaudet (including John Zakutney, pictured below) endured a battery of tests to see how the rigors of spaceflight might affect people when their inner ear is not functioning normally. The Gallaudet Eleven "made substantial contributions to the understanding of motion sickness and adaptation to spaceflight," according to Hannah Hotovy of the NASA History Division. In some ways, disabled people may be even better suited to space travel, Rose Eveleth writes for WIRED.

For her part, Arceneaux hopes that taking part in the mission will also be an inspiration for other cancer patients: "They'll be able to see a cancer survivor in space, especially one that has gone through the same thing that they have," she told the New York Times. "It's going to help them visualize their future."

Do you get this daily? If not, sign up here or forward to a friend.