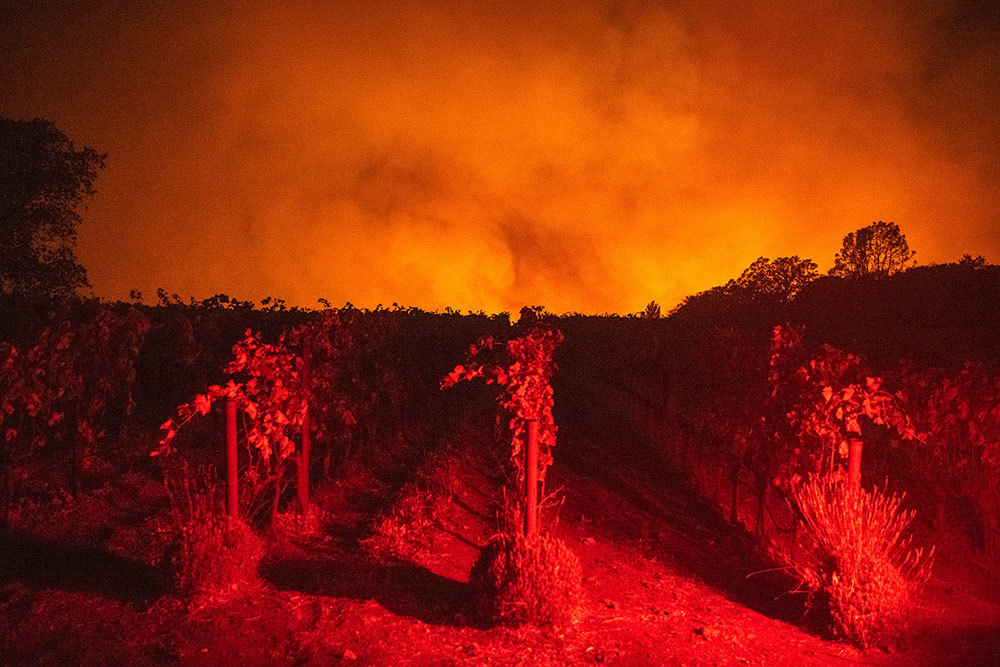 PHOTOGRAPHS BY STUART PALLEY
By George Stone, TRAVEL Executive Editor

Cabernets from northern California's Napa Valley are known for their earthy essences—not their ashy aromas. And yet this year's nightmare conflagrations, including the most destructive wildfire in the valley's history, are changing the equation not just for oenophiles, but for small-scale agriculture, tourism, and farm communities.

Travelers love to swirl and sip at beautiful vineyards, but tasting rooms are just one part of California's $40 billion wine industry. We wanted to learn how an unprecedented year of fires is affecting America's most celebrated wine region. So we partnered with San Francisco Chronicle wine critic Esther Mobley, who reports on how climate change, already threatening to alter the taste of Napa's prized Cabernet Sauvignons, has now fueled fires that seem to turn more destructive each season.

"Perhaps the most sobering lesson of the 2020 fires is that California can no longer expect blazes to fall within a predictable time frame," Mobley writes. "Napa Valley was forced to confront a harsh reality: Harvest season in this world-famous wine region is now also fire season." This is terrifyingly evident in the images of photographer Stuart Palley, who bravely raced to Napa to capture hellish scenes of vineyards ablaze (above).

What's at stake goes beyond harvest-season tourism, which was already challenged by COVID-19 this year. "The implications ripple through every facet of life here," Mobley reports. "The perennial presence of wildfire threatens the farmworkers [a largely Latinx immigrant population] who must choose whether to work in oppressively smoky air or not work at all. It imperils the local economies of wine country's towns, which have grown heavily dependent on tourism—to the tune of $2.23 billion in visitor spending in a typical Napa Valley year. And it endangers the viability of the wine itself: By one estimate, complications from fire and smoke may prevent as much as 80 percent of Napa Valley's 2020 Cabernet Sauvignon grapes being made into wine."

Wine is the product of an interlaced agricultural economy that is dependent on environmental balance. With Napa's Glass Fire now at a stable containment level, many vintners are sifting through "an eerie landscape of charred earth and white ash" and reevaluating their futures in a warmer, drier world. Travelers can help by recognizing the hard work and risk that goes into all of our small-scale agricultural products—from peanuts to pinot noirs. Raise a glass to the vintners, farmers, farmworkers—and, especially now, the firefighters—who coax beauty from the soil and struggle to sustain it for the future. (Below, Dario Sattui, at left, stands amid his Castello di Amarosa winery, right, which was hard hit.)

Do you get this daily? If not, sign up here or forward this to a friend.